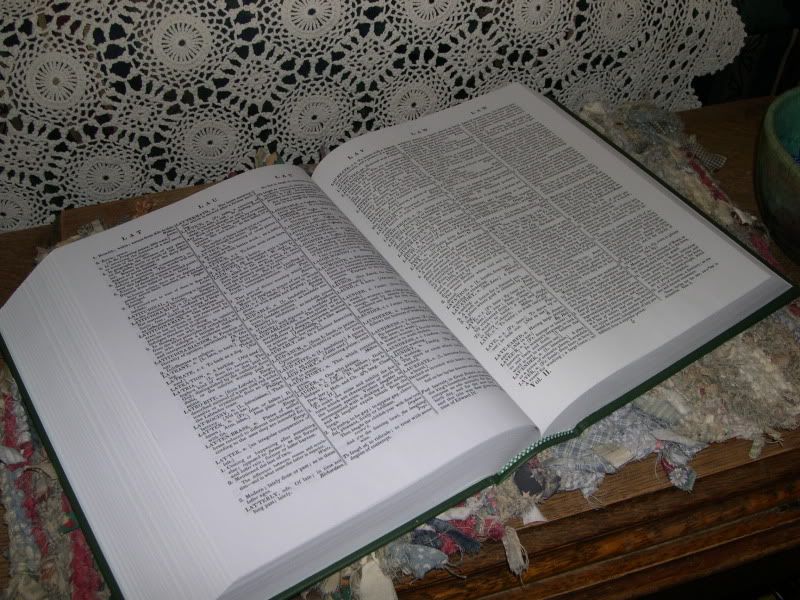 Rachel, my sister, gave me an 1828 American Dictionary of the English Language by Noah Webster for Christmas and it came in the mail this week. I knew right where to put it—front and center in the living room where it's accessible.

When I was a girl, we had a big dictionary that sat on a stand at the end of the upstairs hall, right outside of my bedroom door. There is power in a dictionary. A dictionary settles arguments (necessary with a scrabble-playing-grandma-erma-that didn't-mind-beating-her-grandkids in the house). A dictionary expands a vocabulary. A dictionary is a history book that records not only what words mean in a certain year but what society deems important enough to preserve. A dictionary is a keeper of the word. The Oxford Dictionary omits and adds words every year when they update. These are some of the words they chose to delete this year:


bishop
chapel
disciple
sin
Christian
nun
monk

Now can you see why I'm so glad for an 1828 Noah Webster dictionary in my living room? For as long as I can remember the most often used answer to a question has been "Go look it up in the dictionary so you'll remember next time." I think those are pretty important words and Noah knows what every one of them means. I looked them up.
Do you want me to look up a word for you?
Guess what a bishop is besides being "a spiritual superintendent"? (I put the answer in the comments section.)