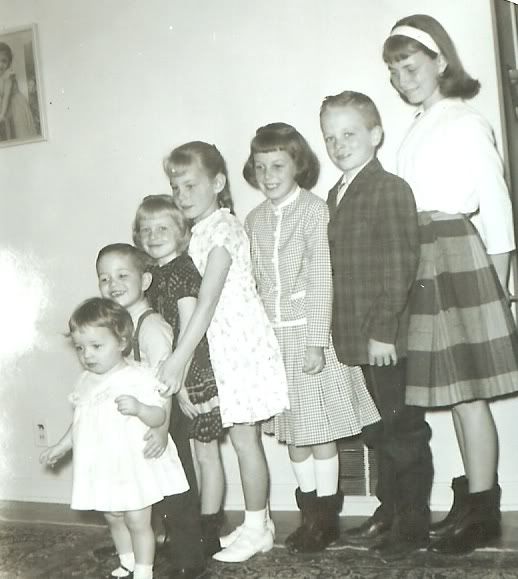 Jane, Tim, Lynn, Marcia, Chris, David, Lila
(not yet born Janet, Lee and Rachel)


Since 1915 members of The Church of Jesus Christ of Latter-day Saints have been encouraged to hold Family Home Evening once a week. Family Home Evening is an evening that is set aside for families to spend time learning, laughing, listening to and enjoying each other. During this time families leave the interruptions and distractions of everyday life behind while they learn scripture stories and Christian principles, sing songs, play games, and eat treats.

So that everyone was included and had an opportunity to "be in charge," we had a family night board outlining the responsibilities of the evening. Grandma Erma helped to make the family night board I remember best. It was covered in felt and had felt flower pots glued to the front of it. Each pot had a family night job glued to it that was spelled out in alphabet macaroni. Each pot held a felt flower with our individual names glued to the centers (you guessed it, in alphabet macaroni). The board hung over the kitchen table. We took turns "conducting" and whoever was conducting got to assign the jobs by rearranging the flowers in the pots. The pot titles were:

Conducting
Opening Song
Opening Prayer
Business
Parts
Lesson
Closing Song
Closing Prayer
Treats
Games


The songs that we most often sang :

You Are My Sunshine
Popcorn Popping on the Apricot Tree
Little Tommy Tinker
There Was a Farmer Had a Dog and Bingo Was His Name-O
Old MacDonald Had a Farm
Love at Home
I Am a Child of God
Three Blind Mice


The items of business that were routinely discussed:

~Who was using whose toothbrush (sometimes we all had to go retrieve ours to root out the culprit who was using everyone else's)
~How much laundry we were creating (we typically had five to seven loads a day)
~Upcoming trips (Disneyland and Salt Lake City were my favorite destinations)
~Family schedules (ballgames, meetings, etc.)
~Problems (these were usually family home evening killers)


The "parts" section of family night was for showcasing talent. (However because showcase talent was limited in our family sometimes we substituted our part with an activity):

~Turning somersaults

~Playing a new piano song

~Standing on our head

~Racing around the house with our toes curled under

~Bringing out a tray of sundry items covered with a dish towel and letting everyone look at the items for 30 seconds before covering them back up and letting everyone write down the things they remember.

~Slips of paper folded into a bowl with one having an "x" marked on it. Whoever got the "x" got a prize.

~Pixie Week (Everyone drew names for someone that they would do secretive, kind acts for all week. At the next family night we would reveal who was whose pixie and give them a small token gift.)
~"You Must Pay the Rent. I Can't Pay the Rent. You Must Pay the Rent" done with a napkin prop which doubled as a bow tie, a mustache and a hair bow.


The lessons:

Usually flannel board stories from the Old Testament, New Testament, and Book of Mormon.


Treats. (Because we usually had dessert at least once a day, treats were different than dessert. Treats were usually store-bought instead of homemade.)

Chips and dip
Floats (we weren't partial to root beer, we also had strawberry, orange, grape, and black cherry)
Gum (lots and lots of different kinds to choose from and then we'd swap sticks with each other)
Ice Cream Bars
Sundaes
Banana splits
Candy Bars
Lifesavers


Games. (Because we always had little kids in the family, these games worked for years and the older kids just endured them.)

Hide the Thimble
Button, Button, Who Has the Button
Hot Potato

I loved family night then and the security I felt for that hour. I loved it when we had little kids when we could see and feel the excitement they had to have our undivided attention. I loved it when we had bigger kids and we knew where they were and what they were doing for that hour and that it was ours alone with them. I love it now and the reconnection that comes. Family Night is a memory that just keeps piling up.