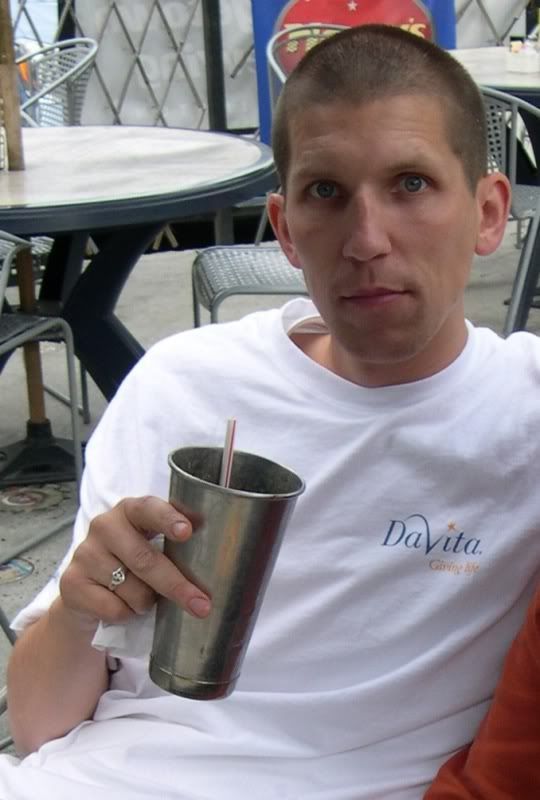 We were at a big, new lodge in the mountains holding a scrapbook retreat when I first met Ray. He had come to pick up Cali and take her to dinner. The lodge was swarming with busy, creative ladies. Alyson, who is about Cali's age, had been outside when Ray pulled up in his car. She came into the lodge breathless and laughing exclaiming, "There's a MAN out there!" She said it with the same enthusiasm and inflection that Jethro's daughters used in The Ten Commandments when they found Moses lying in the desert.

Alyson's declaration reverberated throughout the lodge and Cali, who was hoping to leave discreetly, left to a chorus of well-wishers in the lobby. Ray, the only male on the premises besides the owner's dog, was so professional with us all—he shook our hands, looked us in the eye, and asked us about ourselves before Cali steered him out the door. After they left, my niece Jenny observed that Ray must be trustworthy because, "I see Cali left her cell-phone on her bed."

The lights seldom go out at our scrapbook retreats. Scrappers like Darla and Debbie can create until 3 or 4 am and more than once we have passed in the night—them going to bed while Susan and I were getting up to work. There was no way, no how Cali was going to quietly sneak back into the scrapbooking routine. As I recall, Heather won the award for the most pervasive questioning about Ray. And that was my first memory of him.

At the next year's scrapbooking retreat, Ray again came to pick up Cali for dinner. This time he joined us in the scrapbooking room, sat in front of the fireplace, looked at scrapbooks, and visited. When Cali and Ray got married a few months later, several scrapbookers drove long miles to attend their reception. He was one of us you see.
Today is one of Ray's birthdays. My memories of him make me smile, laugh, and my eyes mist—in short, they warm me through and through. I'm so glad there are many more ahead.