We've had an incredible week and a half at West Point's graduation. Using my daily blog topics I'll cover some of the little behind-the-scene details every day and then do a big recap of the whole experience in Friday's newsletter.
Trips to the East are somewhat more affordable for us in that most of the attractions we go to are free and the cost of food and gas is comparable to the West. One thing, however, that is much more expensive is lodging—especially at West Point. West Point is located on the Hudson River 50 miles north of New York City. The town that borders the post, Highland Falls, has about 1,200 people and the three or four mom/pop motels located there are booked FOUR YEARS in advance for graduation. The next nearest motels available are about 20 miles away and cost $300 a night (we're talking Motel 8 type lodging). Not knowing exactly who was coming to graduation until the last minute, but knowing that we would need four to eight rooms per night and have to prepay four months in advance (nonrefundable) . . . well, you can add . . . it was going to be
really
expensive and risky, so we looked for other alternatives. That's when we got a flyer in the mail from J.J. He advertised a home to rent. Though it was 40 miles away from West Point, it would sleep nearly 20 people, provide a kitchen, fireplace, four bathrooms, big backyard, pool/dart room, big screen TV, washer/dryer and bbq grill—for $400 night. In short, it was perfect for what we needed so we reserved it.
It was an eclectic home with décor from several eras and locations. And, according to J.J., it may or may not have been haunted.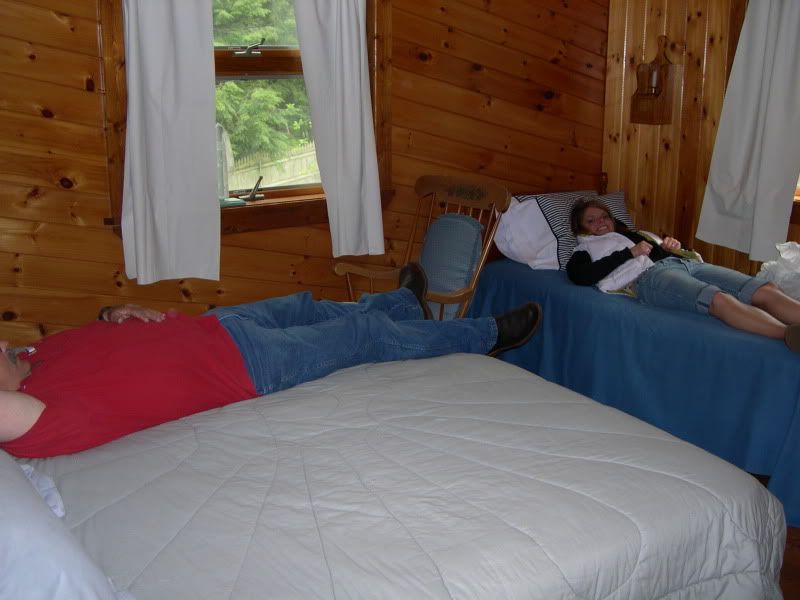 That one little hint of haunting kept everyone sleeping in close proximity. Of the 13 beds in the house, Grace chose to sleep in the one next to me and Calvin the first night when we were the only three there.
One night Abe invited several West Point buddies to the house for a bbq. Ten or eleven guys ate 6 pounds of hamburger, 6 pounds of hotdogs and 2 pounds of bacon.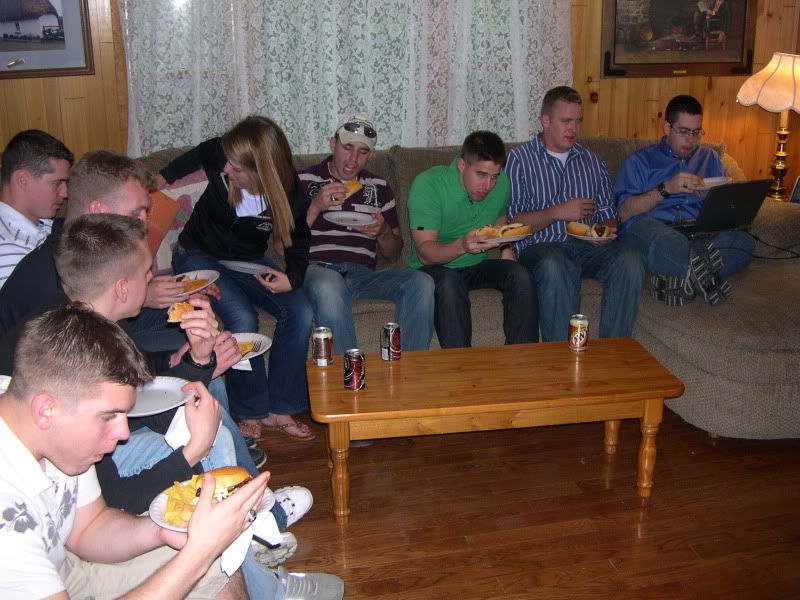 They played pool and threw darts, goofed around in the back yard, visited by the fire in the fireplace . . . and then, the funniest thing was to see them slowly congregate on the couch and watch Princess Bride for an hour. They could all practically quote it.

You can see Marc working on the computer in the corner of the picture. He is hacking into the secure wireless port for our computer. He was on the front page of the NY Times a few days ago for an NSA competition that West Point won for successfully keeping intruders and hackers out of their system. It was handy having a connection in both senses of the word.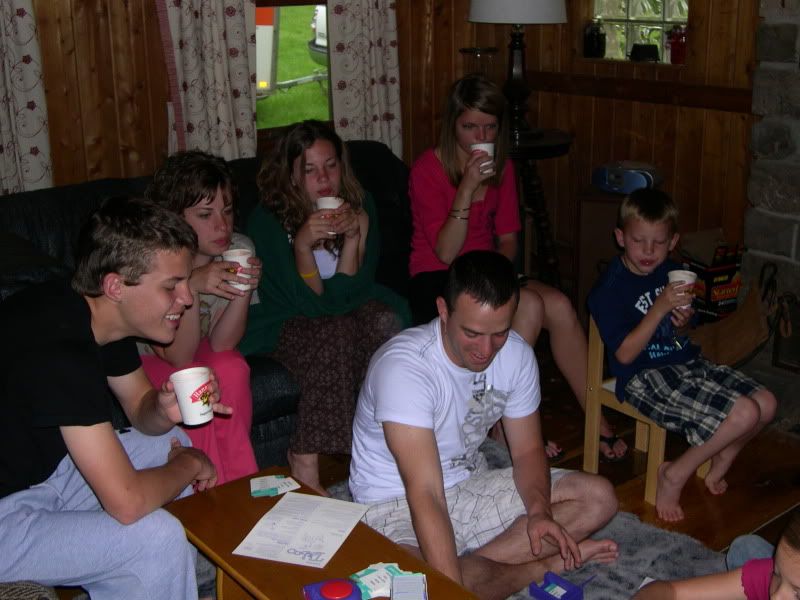 Justin, Ande, Jesse, Grace, Calder, Abe
My sister, Rachel, and her husband, Bert, and their seven kids drove all the way from Oklahoma to attend Abe's graduation. It was very nice to spend the time with everyone in a family style environment. A few of my favorite moments at the house were:
An early morning game of Taboo and hot chocolate. I was in the kitchen making waffles, but I could hear them in the background.


Everyone slowly but surely migrating to Ray and Cali's bed where gifts were opened. Ande flew into West Point via a study abroad trip in Europe. Early one morning she went into Ray and Cali's room to give them their gifts. Calvin and I followed her then came Grace who quickly left to get Abe, next came Abe, Rachel, Justin, Bert, Cache . . . and darned if that bed didn't hold almost all of us.


Ande brought lots and lots of German chocolate and left it on the coffee table for everyone to sample and not one ant got on it. There was strawberry chocolate, lime chocolate with pop rocks (the favorite), hazelnut chocolate and white chocolate.


Fitting all sixteen of us around the kitchen table to eat pizza . . . even though Rachel and I caught a little flak for requesting it, I'm glad we did.
The forty-five minute drive was beautiful through the wooded hills. Here Grace is telling Ande and Sarah, Nathaniel's fiancée, about her and Abe's wedding plans.

Though we were busy and didn't spend much time at the house, it was nice to have a place to interact, eat and wash clothes. We took our own towels and washcloths, but everything else was provided (including the waffle mix). I took enough washcloths for each day, but I took ratty ones so I could toss them and they wouldn't sour in the laundry bag or take up extra room in the bathroom. Packing ratty washcloths that you can throw away each day is my homemaking tip for today. (And when we go camping I take holey socks and throw them away at night too, because disposable socks are even more convenient than disposable wash rags.) It's thinking outside the plate.