We've had an incredible week and a half at West Point's graduation. Using my daily blog topics I'll cover some of the little behind-the-scene details every day and then do a big recap of the whole experience in Friday's newsletter.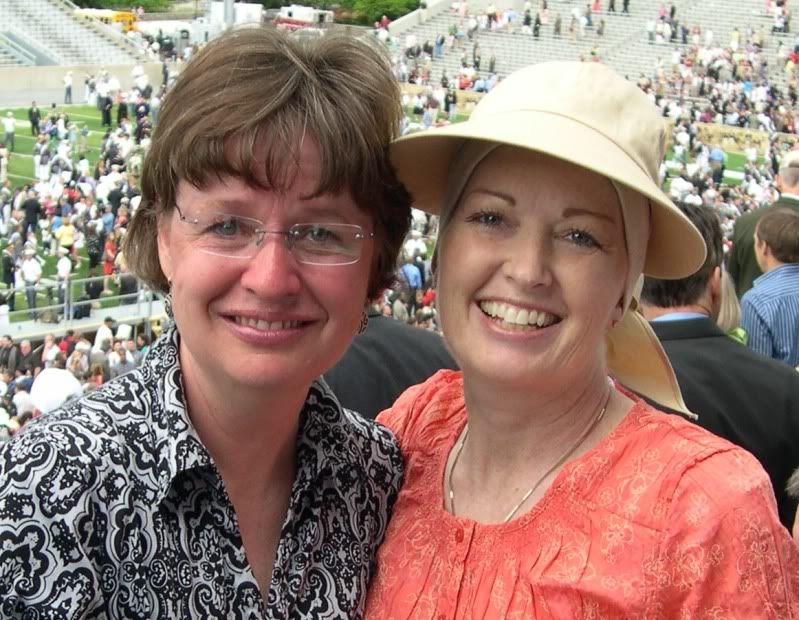 I admired Laurie the first day I saw her at a West Point parent's meeting over six years ago. Laurie radiates and has such a comfortable, confident air that I love to be near her and have enjoyed close contact with her through the years. Abe and Nathaniel (Laurie and Gary's son) were roommates this last semester.
After the graduation I went over to give Laurie a hug. West Point has been both of our security blankets—buying us time before we send our sons to war. While at West Point the boys were out of harm's way, but now that is behind them and it is time for them to fulfill the duties for which they were trained. I'm blue in this picture because of the stripping of security as well as knowing that Laurie's body has been invaded by cancer in the last six months and her future is uncertain. She is such a good friend to me. Laurie, on the other hand, is joyful and grateful her health allowed her to attend the graduation, for just last week she was so ill they didn't think she'd be able to make the trip.
On days like the one above I wish my blue personality had more of Laurie's yellow personality sprinkled in it.