1. Abe and Grace bought their first vehicle. It's fun to watch them make decisions together. A few days after they bought it I went in to the insurance office to tell our agent to take Abe off the policy. She congratulated me on our new smaller payment but added, "Don't get too comfortable, young male drivers and drivers over seventy cost about the same to insure, you'll have teenage rates again someday."

2. Calvin and I went to a movie the other night and it was a lot cheaper than normal. Later when Calvin looked at the ticket he said, "They gave us senior rates." Hmmmm. I noticed I got some deeper creases this year, but I didn't expect such a generous bonus from them so soon.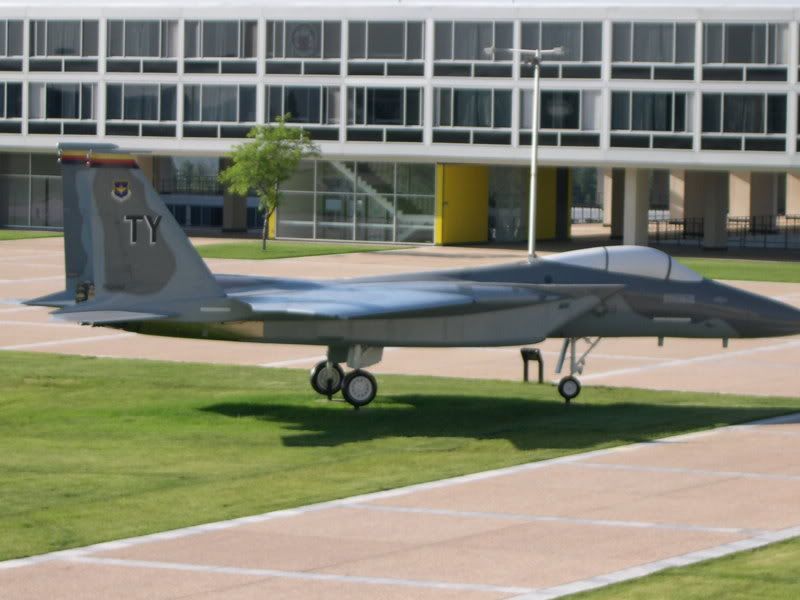 (I did not photoshop this, it's just one of the jets on the USAFA terrazzo. When I first saw it I said, "Hey look, Ty, they're expecting you!")

3. Ty was re-accepted to the United States Air Force Academy. Both Abe and Ty had to resign their positions at the academies to serve LDS missions and then had to reapply for congressional nominations and academy appointments. We received word several months ago that Ty had received two congressional nominations, but have been waiting to hear whether or not the academy would offer him an appointment. Our congressman's office called yesterday to say the academy gave him an appointment. Hooray for Ty. Hooray for us not having to worry anymore or having to go through the long, tedious application process again. We had to go through it four times. (We? We? Have I got a mouse in my pocket? I didn't have to write the 16 essays, or take the physical tests, or the medical tests, or the SAT's, or . . . or. . . or . . . but I did worry.)

4. Some dinners take a long time to cook—like the one for the 4th of July. Our neighbor planted peas in a few of his fields near us and the other night he told me to help myself when they were ready. His peas are now up and our potatoes in the garden should pop through any day now. That means we can have creamed peas and potatoes for the 4th of July. Three months really is a long time to cook a meal.
5. I delivered a couple of May Baskets today . . . artificial flowers and all.

6. We turned off our TV today. TV has never been very important in our home anyway and when all the kids were home we only kept it connected for two months of the year—April and October. One year Calvin and I wanted to keep it on longer, but the kids outvoted us. Once the kids left home we kept it connected (what with no one to outvote us and all), but we're tired of it and would rather do other things with the $60 a month. I may never know whether Jack Bauer lives or dies.

7. When Ty was little he couldn't say his "r's" and had a stutter and a deep gruff voice. He would come up, hug my leg and say, "I think you're the best mom in the whole wide world." Everyone else in the family adopted that saying for a time. Ande wrote from Europe a couple days ago and said, "Hey Mom--I love you and think you are the best mom in the world. And now I can say that with reason...I've been traveling the world :) Love, Ande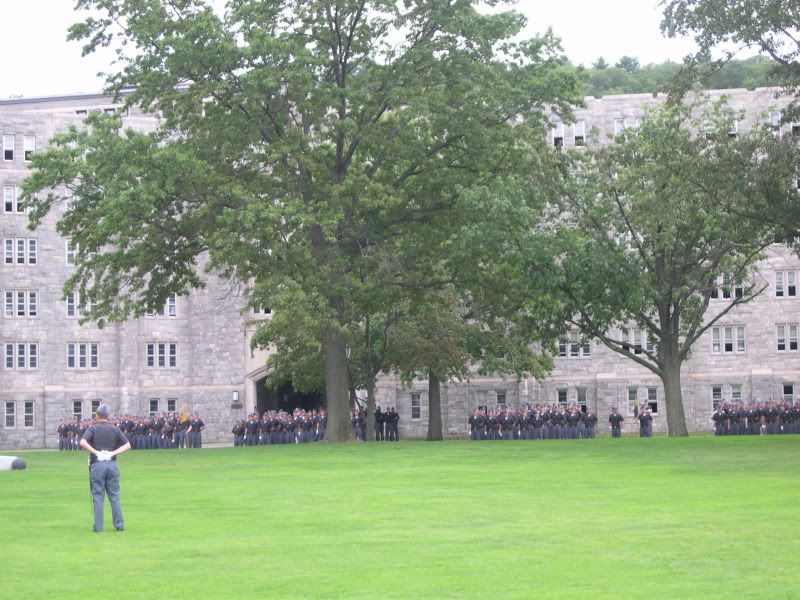 (WP cadets getting into formation last fall)
8. My sister, Rachel, and her family just notified us that they are going to drive the 22 hours to attend Abe's graduation. We are so excited they're coming and to have family with which to share this exciting event. We happily rented a home (regular motel rooms go for $300 a night and are booked a year in advance) to stay in while we're there and there will be three or four families staying with us. We're really looking forward to this.