We've had an incredible week and a half at West Point's graduation. Using my daily blog topics I'll cover some of the little behind-the-scene details every day and then do a big recap of the whole experience in Friday's newsletter.
I think graduating from college is a great achievement. When Abe graduated he also became an officer in the United States army. It's been a great journey for the whole family and Abe didn't hesitate to tell us several times this week how much he appreciated our love, encouragement and support through his West Point experience.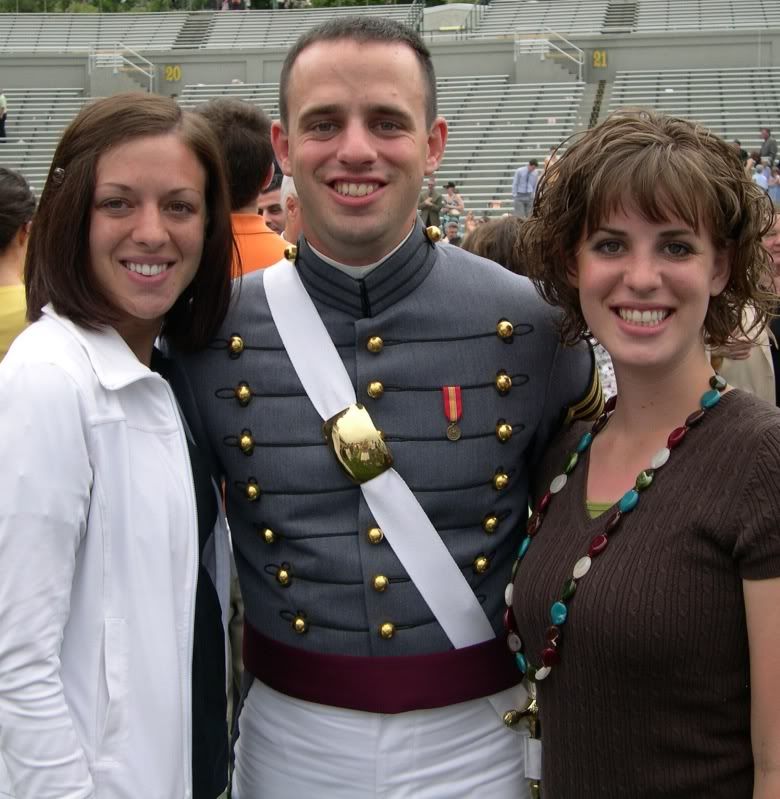 Cali is two years older than Abe and has always watched over him, sometimes too closely for Abe's comfort. When Abe was just a few months old and Cali just barely two I was out weeding the garden. I looked up on the cement steps leading to the front door and there stood Cali with Abe dangling in a choke hold from her two arms. She was hollering to me, "Mom, Ape crying. Ape crying, Mom."Aware that if I hollered back she'd very likely drop him and run for cover, I talked as calmly as I could while I walked across the garden, under the tree, through the grass and to the steps where I carefully took him from her. Abe was glad to have some air, I was glad he was still in one solid piece and Cali was glad she'd saved him. How Cali ever climbed into his crib and dragged him back up and over the side as she crawled out, and then carried him through the house, then opened the front door with him in a head and arm is a mystery, but that protective sister has followed him everywhere through the years. Abe has always been a beneficiary of Cali's loyalty as any time Abe has had an important event in his life she has made the sacrifice and effort to be there to support him.
In turn, Abe has been protective of Ande. As three-year-old-cowboy-boots-wearing Abe held a newborn Ande on the couch one morning, I heard him whisper to her, "If anybody hurts you, I'll kick 'em with my boots." Boots and guns were Abe's weapons then (however, he did lose one of his bb guns to Calvin's knee when he pointed it at Ty) and, due to the Army, still are today. Ande has always been a beneficiary of Abe's loyalty and she in turn has been a great support to him.
And finally, though Ty isn't in the picture we heard from him this week, too, and he expressed his admiration and appreciation for Abe and his accomplishment. It reminded Calvin and me of the boys when they were in high school. Abe has always loved football, but Ty not so much and only played for two years. After Abe graduated from high school, Ty asked us if we thought he'd be a quitter if he no longer played football and explained he'd only done it so that he could be on the sidelines for Abe when he came out of the game. So, in Ty fashion, he is on the sidelines in this picture offering Abe his congratulations from Taiwan.