My sister, Lynn, and I have kids the same age, in fact just weeks apart: Cali and Will (26ish), Abe and Levi (24ish), and Ty and Rachel (23ish). Ande was cousin-less, so Ty and Rachel included her when she was big enough to follow. We lived within 100 yards of Lynn and Fred and for a good decade the kids played together nearly every day—dress up, cowboys, school, forts, board games, jumping on the trampoline, Duck Hunt—and most summer Sunday evenings our families played Hide-n-Seek together. In short, there were a lot of play hours logged between our families.
One of my favorite pretend games that Rachel and Ande played was when they were orphans and would only refer to my sister as Miss Hannigan (from
Annie
). "Yes, Miss Hannigan" they'd whine obnoxiously when she'd tell them to run to the basement for a jar of green beans or to pick up the toys. And Calvin used to get so mad at Ande and Rachel because they'd drag his tools out of the shop to their forts. In fact,
whenever
we were missing
anything
we'd holler, "Ande and Rachel!
Where's the ______?" and one of them would run to their fort and retrieve it. But, one thing they seldom did together was take naps. We had quiet time every day, but that's where the kids parted ways.
Even though we moved 500 miles away, the kids' friendships have remained strong. Cousin Rachel (not to be confused with Aunt Rachel) is staying with us this week. I went to check on her and Ande a few minutes ago and found . . .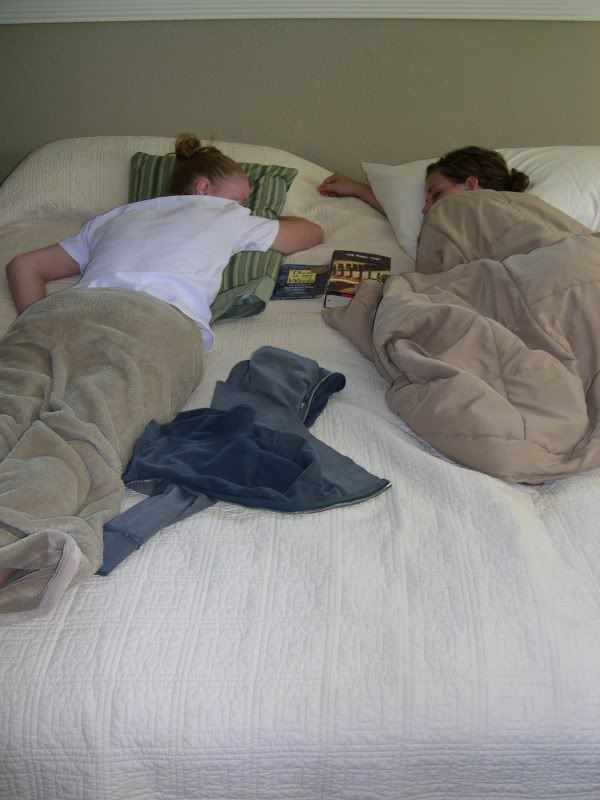 And a few years ago when we went shopping and I couldn't find them, I eventually found them sound asleep . . .
. . . on the display bed. And they weren't even ashamed when I woke them up. I wished they'd have liked naps when they were little, that's one game Miss Hannigan and I'd have been happy to play with them.