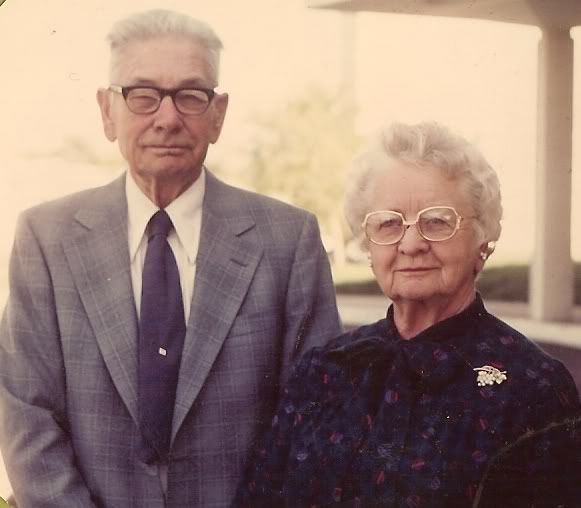 One of the things I liked to see best when the school bus dropped us off at our lane was my grandparents' car in the driveway. When we saw it, we would jump the cattleguards and race for the living room. There sat Grandpa and Grandma. My parents and grandparents had a strained relationship, so mom was usually in some other corner of the house while Grandpa and Grandma sat quietly by themselves waiting for us kids to get home.
Grandpa kept a clip comb in his front pocket and would sit back in the chair while we played barber. It seemed we combed his thick, white hair for hours. When we were small we would run by him and he would reach out, snatch us and tickle us until we couldn't breathe. Then he'd turn us loose, we'd run away, compare red scratches on our ribs and run by him again. Sometimes Grandpa would take the older kids shooting .22 rifles up on the hill and once in awhile he'd take a walk out around the farm. Grandpa's family had owned the land previously to my folks.
Grandma would follow us to our bedrooms to see how our dolls were doing, what our homework was, or ask to see our collections (my sister, Lynn, had a perfume bottle collection). One time she challenged me to learn the counties in Idaho, tested me when she visited and paid me five dollars when I had learned them. Grandma always brought a box of candy bars or a gallon of ice cream. Sometimes she would scoop a handful of the candy bars from the box and walk over and give some to our neighbors--they had ten kids, too.
After we all ate supper together, as we customarily did
(and embarrassingly enough, sometimes Dad would tell mother-in-law jokes at it)
, Grandpa and Grandma would give us a hug, get in their sedan or station wagon and drive the 25 miles back to town. Then, in another month they'd come and visit again.
I have many big memories of Grandpa and Grandma: going camping at Aunt Jean's cabin, going on a trip to Israel with them, going to the Ice Capades and eating scallops for the first time. However, it wasn't until several years later that I fully appreciated the effort that Grandpa and Grandma put into those monthly trips to spend the evening with us. I'm sure glad they made the effort though because those little visits are some of my fondest memories with them.
What is one of your favorite grandparent memories,
being's yesterday was Grandparent's Day and all?