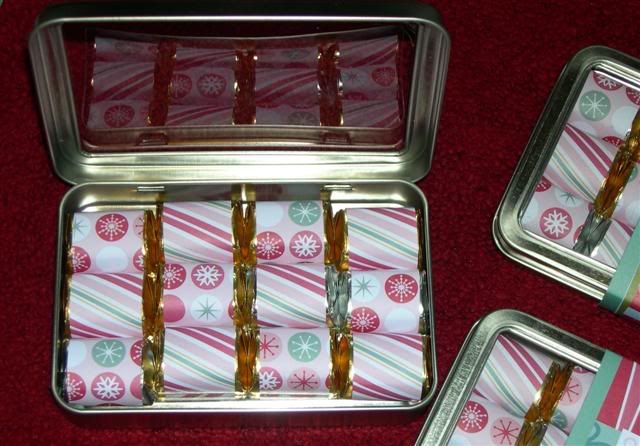 Michelle Rogge brought these tins filled with candy for everyone at our scrapbook retreat a couple of weeks ago. She ordered the tins from papermart.com (83 cents each) and then tucked nine Hershey Nugget candies wrapped in patterned paper (she said that mailing labels are another option) inside. She wrapped the tin with a band of patterned paper for a finished look. As you can see, the candy tins are absolutely darling. Michelle has used them for birthday party favors as well.

Cali emptied her candy and put marble fridge magnets she'd made inside. The magnets attached to the metal and held them firmly in place. They, too, looked cute and present-y.

Michelle also put some hot cider with a cinnamon stick and a few pieces of caramel in a tin and called it Reindeer Soup.

Michelle had some deeper tins (99 cents each) that she put 25 handmade cards (corners round-trimmed) inside. She also put a mini-photo album in another deep tin. Again, they were really cute.

Store-bought or homemade candy, cards, magnets, mini-albums, hot cider or hot chocolate packets—all of the ideas were really fun, doable and inexpensive.


What are some other things that you would put in a gift tin like this?