Landing at 10:30 am (Thursday) in Albany, New York, we met Abe and Grace a couple of hours later then drove to Washington, D.C. via a Subway and Baskin Robbins stop. Grace caught me up on wedding plans while Calvin and Abe sat in the front seat wondering how we could talk about wedding plans at such length. Finally we set aside the plans and just visited—one of my favorite parts of family vacations—until we got to my nephew, Golden's, apartment. I love the tall, skinny homes and the brick sidewalks lined with trees. The town smells incredible. Though there are no cherry blossoms on the trees, the air is sweet and fresh and smells like cherry blossoms.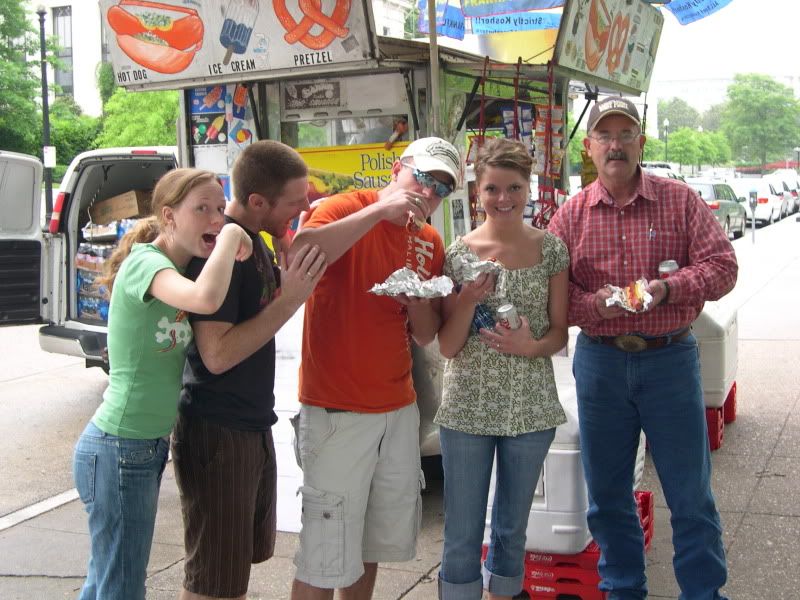 (Julie, Golden, Abe, Grace, Calvin)

I wore my walking sandals today (Friday) for good reason—fashion not being one of them. We grabbed the subway down to the mall. The DC subway system reminds me of a Disneyland ride—it's clean, the voices sound automated, no food or drinks are allowed and the terminal ceiling looks like it belongs in Tomorrowland. Walking downtown DC, the first stop was a vender stand where we grabbed a hot dog and banana for breakfast. A mystery of the city is why vender food tastes so good—even the bananas tasted better than normal and a banana is a banana.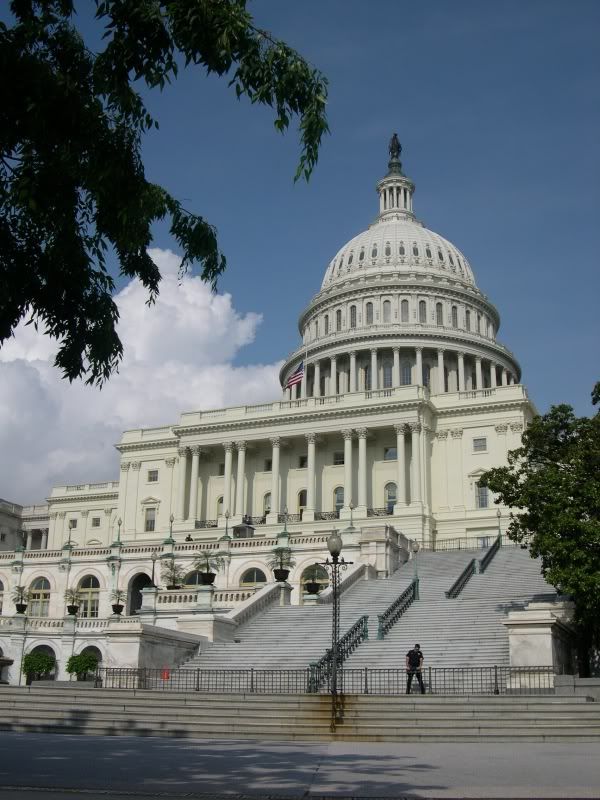 Our first stop was the Museum of American History. While Calvin and Abe figured out cross-country moving logistics and made u-haul reservations on the curb, Grace and I went inside and saw the enormous flag that inspired Francis Scott Key to pen "The Star-Spangled Banner." Suddenly swarmed by hundreds of school kids on field trips, we moved to the next Smithsonian. We could have spent a couple of days at the Museum of Natural History, but whizzed through it in a couple of hours. My nephew, Golden, was finished with work early in the afternoon and joined us where we grabbed a second hot dog for lunch, which was as good as the first, and kept walking. The Capitol closed earlier than we expected, so we missed it but went to the Native American museum instead. I don't know quite what to say about that museum. If the Native Americans like it, then I think it's great, but if they are disappointed in it then I'm mad for them that very little was displayed in their behalf.

After museum skimming we caught the subway back to Golden's via Five Guys Burgers and Fries. Ahhhhh. What a great place to eat: peanuts at the door, huge hamburgers and a heaping pile of fresh Idaho potato fries. After visiting with Julie, Golden's wife, for an hour we drove down to see the memorials.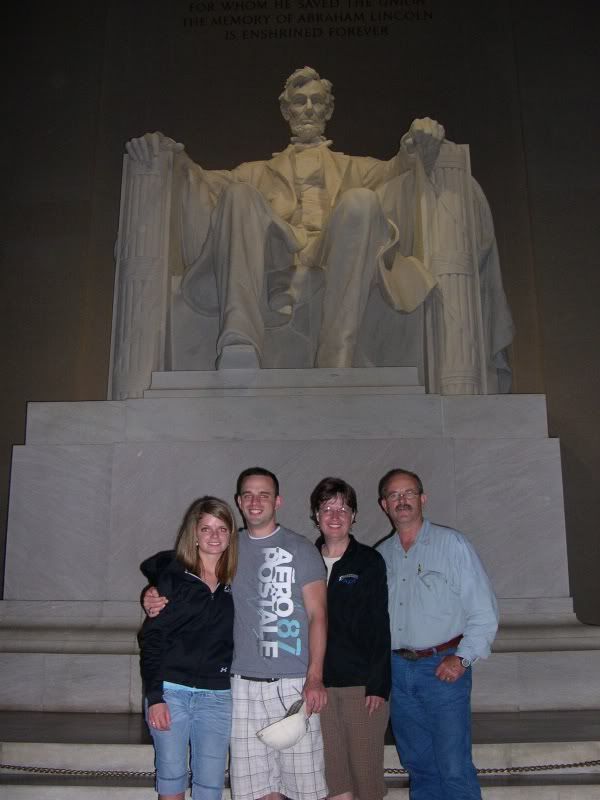 (long time hope realized of standing in front of the Lincoln memorial with Abe)

Poignant. That's the best word I can think of to describe the memorials. If it is as someone once said, "You can tell the greatness of a country by the way they honor their fallen heroes," we're a great country.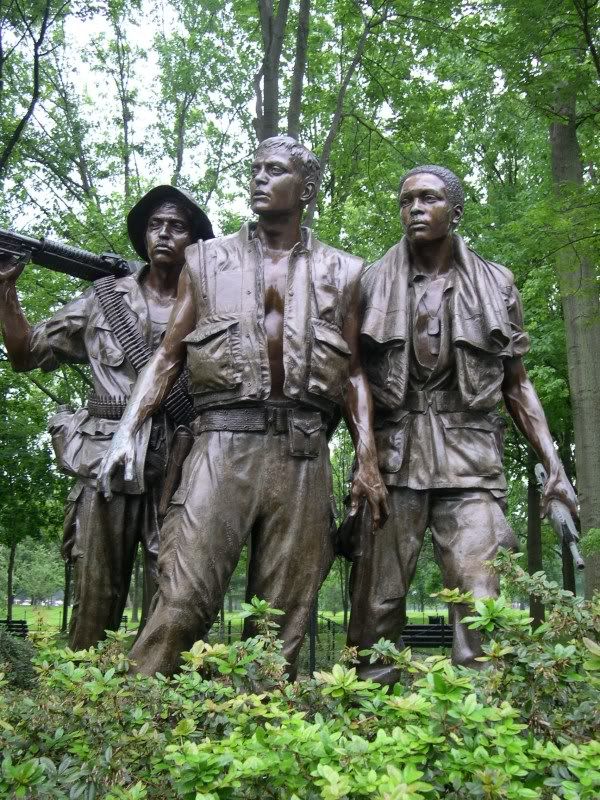 (The faces of the three Viet Nam soldiers say much as they come out of the jungle and look to the memorial wall with the names of their dead and missing comrades.)

We went to the Viet Nam memorial first. When Calvin graduated from high school, the Viet Nam war was fully engaged. Nineteen-year-old male members of The Church of Jesus Christ of Latter-day Saints are asked to serve missions. During the Viet Nam war there was a quota from the government on how many missionaries each church congregation could send out at any given time—two. Calvin had 48 young men his age and he knew his chances were slim to go on a mission, so he went down to enlist in the army. Failing the physical examination because of a heart murmur, he enrolled in college. By filling quotas in other wards, his ward was able to send out 24 missionaries and Calvin was one of them. Two years later, having successfully completing his mission, he received a draft notice from the army. This time the murmur didn't seem to bother the medical board and he was drafted. President Nixon ended our participation in the war before Calvin finished training, so he didn't serve in Viet Nam, but did have to finish the required three years of service.
Calvin wanted to find the names of two of his friends on the Viet Nam memorial so we went to the registry which would lead us to the panel with their names. Tears quietly ran down his face as he thumbed through the pages of the missing and fallen.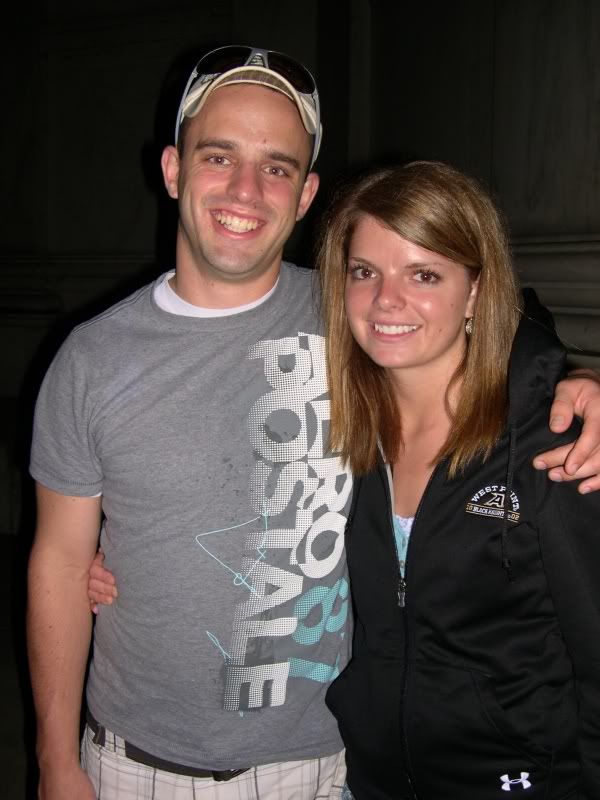 I can't soak in all of this experience. I'm trying hard, but watching Abe and Grace together, reuniting with Golden, walking hand in hand with Calvin to see places that are iso mportant to us—I just can't hang on tight enough to all of it and I'm afraid I'll spill some of it.