This week was the Day of Infamy. To most that means the bombing of Pearl Harbor, but to me it means the day that Calvin discovered he loved me. One day several years ago I asked him, "Calvin, when did you first know you loved me?"
He got a sick look on his face that said, "I cannot win with this answer. There is no way in heaven or hell I remember when I first loved her, but to admit that will hurt her feelings because she always remembers those kinds of things." But, Calvin's not slow-witted, no sir, he quickly said, "December 7th. Day of Infamy. That's the infamous day I knew I loved you."

Oh ho. I called him on Monday and said Happy Day of Infamy. He knew exactly which event I was referring to.

We've had a fire going in the house and in the shop this week. It's felt good in both places. More than once I sat down to read and fell asleep. Calvin has a couple of Christmas projects going out in the shop and I love it when he's working out there. While he's sawing and sanding, the dog lies in front of the wood-stove to keep him company. He keeps a tin of cookies or cashews in the tool box. It's fun to walk out and visit him often. If I look at it through Norman Rockwell eyes, it's picture perfect. (If I don't, well there are mouse tracks, clutter in the corners, spider webs and only Calvin can find anything.)

My to-do list, I'm sure, looks much like yours. Ty called a bit ago and asked me what I had going. I told him I'd read him my list. He suggested I paraphrase it. I read it anyway. He started to laugh and said there was no way I'd finish it. I'm out to prove him wrong. Catching up the blog was on the list.

Speaking of Ty, he is finishing up his finals this week at the Air Force Academy. Between Ande, him and me we have been battling for bragging rights over who has the coldest temperatures this week. So far -34 degrees wins and it wasn't here. This is what it is like some days for Ty:

The wind is blowing these cadets along. Between the ice, wind and slick-bottomed shoes, it's treacherous.
*ooops. updated to add. I just realized the cadet filming this curses at the end (I've only watched it on silent before now) . Please keep your volume off.


I can't wait to see Ty. When he returned from his mission this summer, we had two weeks with him before he had to report to duties. Though he frequently calls and e-mails daily, I haven't seen his face much in two and a half years. It will feel good to be with him.
Ande had an emergency root canal yesterday. She called Calvin from the dentist's chair, "Do I save it or pull it?" She was moaning afterwards and asked, "Do you know how much it hurts?"
I replied there is a reason people say they'd rather go through labor than a root canal. I feel sorry for her. She has finals next week and two of her classes this semester are Shakespeare and Head Drawing. Another class she is taking is an education class from my sister who teaches at BYU-Idaho. This semester has stretched her as she also works two part-time jobs and, like many students, sells plasma for grocery money. She's ready for a break. I can't wait to have her home.
Grace spent a couple of days this week making cookies while Abe was out in the field training. We swapped recipes back and forth as she prepared plates to take to their friends.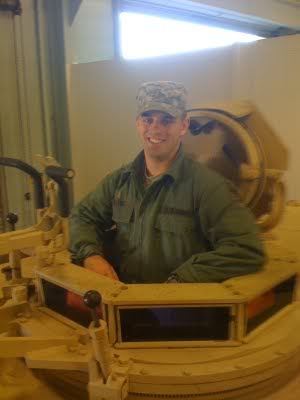 Abe has really enjoyed learning about and driving tanks. I asked him what kind of steering wheels tanks have. Who'd have guessed? They have handle bar steering. I can't wait for Grace and Abe to come home.

Cali spent the last week with us while Ray was gone hunting and on business. We had a great week doing and being. Cali set up the nativity while I set up the tree. We also went to Tri-Cities to go to Costco and Craft Warehouse so she could get the things to make her Christmas cards. They are beautiful. It was fun having someone to do all of the little things with like walking, cooking, dishes, visiting. We had a great week.

Ray stopped by in between his hunting and business trip with his brother, Johnny. We got a few good games of dominoes in and some visiting. We sure enjoy having Ray and Cali close enough to get together often. I can't wait for them to come back next week.
Ray and Grace have joined our family in the last year. Abe deploys to Iraq in a few months and in between Abe and Ty's missions, this will be the first Christmas in five years we've all been together. It will be a poignant (which is not to be confused with poinsettia) Christmas.