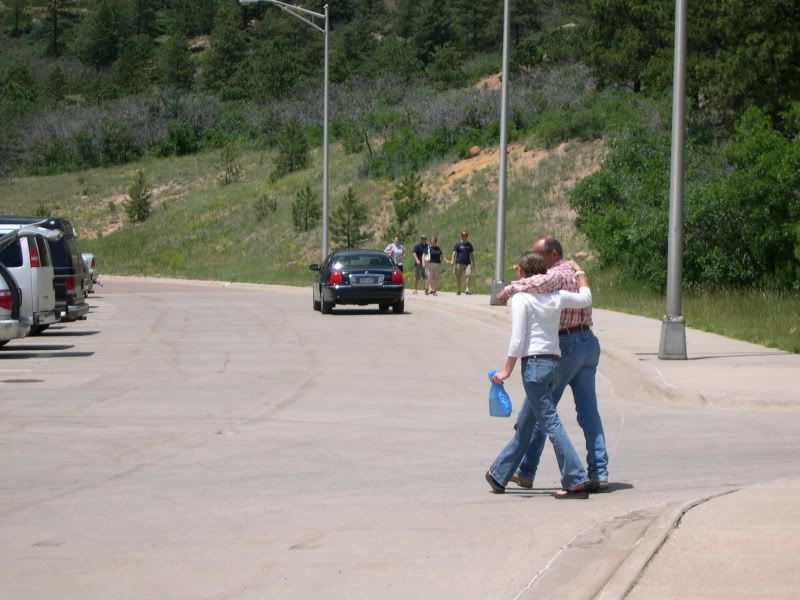 Ande and Calvin at USAFA '05
Calvin and I had just gone to bed when Ande came and crawled in next to us like she has a thousand nights before. We were visiting about the price of rice in China when, like he's done a thousand times before, Calvin asked Ande to bring him a drink of water when she went to her bed. Ande continued talking about China and before long Calvin started quietly singing the Sons of the Pioneer's song "Cool Water" mostly focusing on the echo part that repeats water, water, water, water.

I said, like I have a hundred times before, "Calvin you have really got to quit asking Ande to fetch water for you."

He said, "But Ande's always done it . . ."

I said, "I know, bless her heart, but it's annoying and no one likes to fetch . . ." (besides Seemore).

He said, "But I do all of these little things for her, too . . ." and then reminded us that he had fetched her from Seattle last night, fetched a prescription for her from Rite-Aid that evening, etc . . .

Ande started laughing, and when she's in the prone position it is a deep guttural laugh. She said, "When I was little I used to get so mad at you some nights when you'd ask me to bring you a drink that I spit in it, and . . . " after a long pause ". . . and other times I poured salt in it."

Oh ho. I KNEW there was a reason I never kept arsenic in the cupboard.